Bringing Back Back Creek
Regardless of what can be said about Mayor Moyer on issues like the Market House and her, at times, less than sunny demeanor, one of the areas in which she has tremendous credibility is in her support for the environment and city beautification. I suspect it's one of the many reasons she was re-elected.
Her support for
Greenscape
as both an Alderwoman and Mayor has helped one of the most innovative and successful, local public-private partnerships flourish for going on 14 years now. The city spends around $15,000 buying plants and residents around the City of Annapolis spend a day a year beautifying their neighborhoods and various community landmarks.
One of Moyer's ongoing initiatives has been to clean up
Back Creek Nature Park
. As a result of the Mayor's persistence, and the hard work of volunteers like Mel Wilkins, the stormwater running off Back Creek Nature Park is being filtered in rain gardens, the shoreline has been secured with biologs and restored, and native plants have been dispersed throughout.
Hats off to the tireless volunteers who are helping the bring back Back Creek, and the rest of the waterways and natural areas in our community.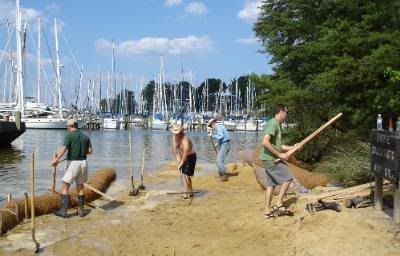 Volunteers restoring the shoreline at Back Creek Nature Park. Photo courtesy Mel Wilkins.
Labels: Annapolis