Wishing Rock
Everyone knows about Anne Arundel County's great rivers and Bay frontage, but there are many other sites of interest that many people, including quite a few who have lived here for decades, aren't aware of.
This is the first in an occasional series of pieces that I will write about these special places.
In Pasadena, in the ever shrinking swath of green space between Route 100 and Ritchie Highway, lies one of the few, true stone outcroppings in the County. At the top of a hill, behind a small industrial park, off Wishing Rock Road, lies the Magothy Quartzite Quarry, also known as "Wishing Rock."
All of Anne Arundel County lies in what is known as
the western coastal plain
, basically, the last bit of land sloping down from the piedmont (literally, the "feet of the mountains") into the Bay. Almost all of the soils here are made up of sand and gravel, washed down from the mountains, and clay. Sandstone, a sedimentary rock formed by concretized sand and pebbles, and heavy in iron, occurs in the soil, particularly in the vicinity of the Magothy River. But, these hulking masses of quartzite above the ground are unique.
Now listed in the
National Register of Historic Places
, the site is believed to have been a quarry site for Native Americans (around 5000 BC), looking to fashion spear or cutting blades, as stone sufficient to hold an edge was very scarce locally. In more recent times, a previous owner of the site actually quarried some of the sand and gravel from the site, but that appears to have desisted.
As well as having been disturbed by mining, the site has apparently been a popular hang out for teens as many of the stones have been tagged with spray paint and beer cans litter some of the site. The stones have even gathered something of a
cult following
.
Nonetheless, the monoliths, situated in a dense sylvan setting can also be a place for reflection and quiet thought. The site is located on private property, and is not currently accessible to the public.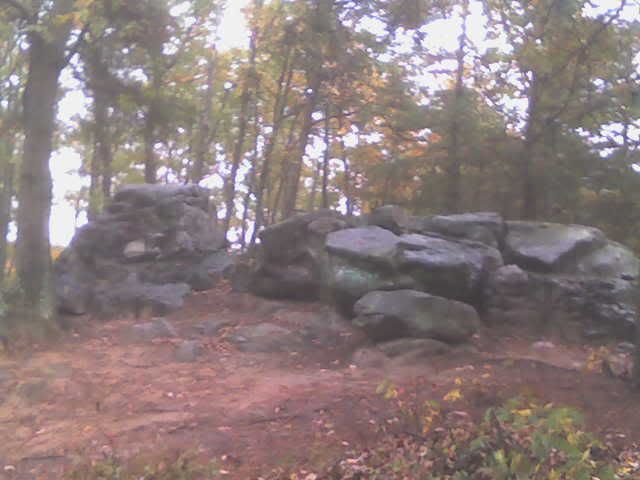 There are actually several stones at the site.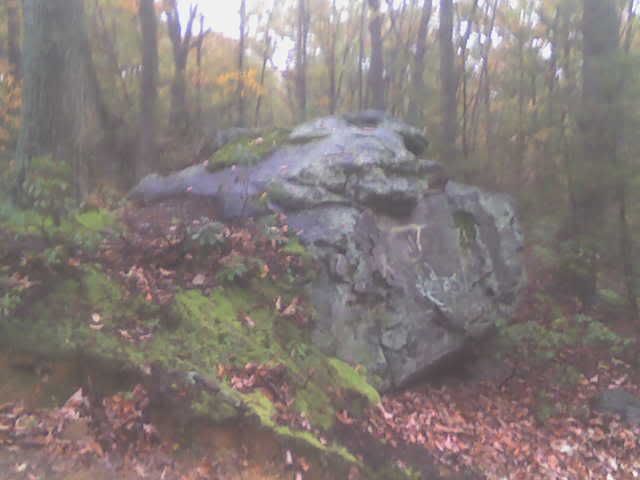 Many of the stones are now covered with graffiti
Labels: Sites of Interest